The Carlisle Area Chamber of Commerce is happy to partner with the Downtown Carlisle Association to assist our area businesses with the necessary tools and resources to help them re-open after the shutdown. Below is an evolving list of resources that will be updated as they become available and as our area continues to move through the state's phases of re-opening. The information below is for businesses operating in the GREEN Phase of Governor Wolf's Phase Re-Opening of Pennsylvania.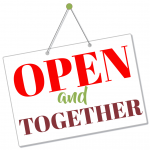 In the GREEN Phase the following guidelines apply:
Continued Tele-work Strongly Encouraged
Businesses with In-Person Operations Must Follow Updated Business and Building Safety Requirements
All Businesses Operating at 50% Occupancy in the Yellow Phase May Increase to 75% Occupancy
Child Care May Open Complying with Guidance
Congregate Care Restrictions in Place
Prison and Hospital Restrictions Determined by Individual Facilities
Schools Subject to CDC and Commonwealth Guidance
Social Restrictions that apply in GREEN:
Large Gatherings of More Than 250 Prohibited
Restaurants and Bars Open at 50% Occupancy
Personal Care Services (including hair salons and barbershops) Open at 50% Occupancy and by Appointment Only
Indoor Recreation, Health and Wellness Facilities, and Personal Care Services (such as gyms and spas) Open at 50% Occupancy with Appointments Strongly Encouraged
All Entertainment (such as casinos, theaters, and shopping malls) Open at 50% Occupancy
Construction Activity May Return to Full Capacity with Continued Implementation of Protocols
All businesses must follow CDC and DOH guidance for social distancing and cleaning
Monitor public health indicators; adjust orders and restrictions as necessary
Guidelines Based on Industry
Need PPE for Your Business
SmartMed Prescription Center
233 E. High St. , Carlisle, PA 17013
(717) 243-9100
Holly Pharmacy, Inc.
31 N. Baltimore Ave., Mount Holly Springs, PA 17605-1302
(717) 486-5321
Quality Care Pharmacy
1 Sprint Dr., Carlisle, PA 17015
(717) 249-5691
Big Spring Pharmacy, Inc.
91 South High St., Newville, PA 17241
(717) 776-0288
TexVision
10 Pine Hill Dr., Carlisle, PA 17013
(877) 503-5247 x 7459
STATEWIDE (masks, thermometers, and hand sanitizer)
https://dced.pa.gov/pennsylvania-covid-19-ppe-supplies-business-2-business-b2binterchange-directory/