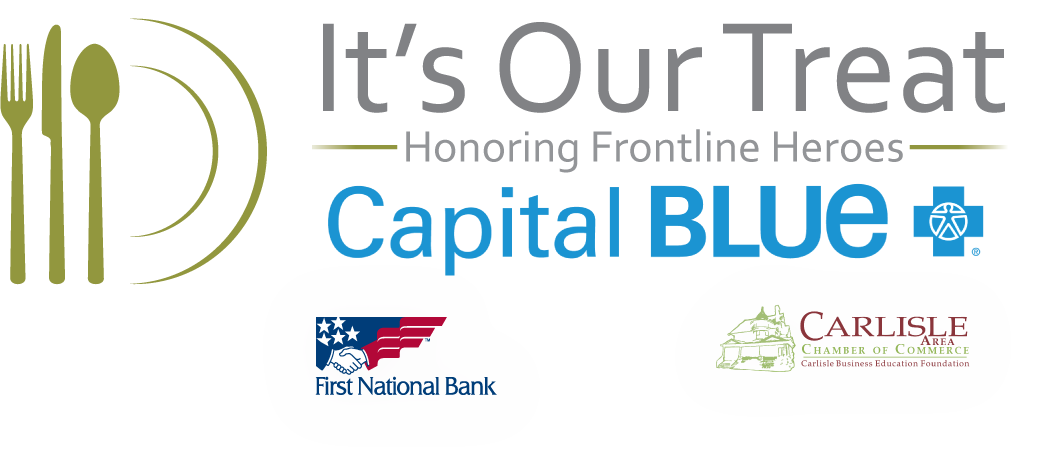 The It's Our Treat campaign focuses on honoring our local Frontline Heroes by providing lunches and retail gift cards from local member businesses. We are proud to have Capital Blue Cross as our lunch sponsor, and First National Bank as our retail gift sponsor. Throughout this pandemic so many of our frontline workers have dedicated so many hours to ensure our safety, health, and security that we just wanted to say "Thank You". The campaign will run from October 2020 through May of 2021 with 2 sessions a month.
Please enjoy the photo gallery below from all of our sessions! Don't forget to follow our social channels to learn more about each session and see it Live as it happens!
October 28, 2020: Carlisle Borough Police





October 30, 2020: UPMC Carlisle - Nurse Management Team




November 10, 2020: Cumberland Goodwill EMS







November 24, 2020: WellSpan Convenient Care



December 8, 2020: Union Fire Company, No. 1






December 22, 2020: Penn State Health Urgent Care and Penn State Life Lion





January 12, 2021: Holly Pharmacy, Inc.




January 26, 2021: Sadler Health Center




February 9, 2021: State Police Carlisle



February 23, 2021: Messiah LifeWays




March 9, 2021: UPMC Urgent Care



March 23, 2021: Claremont Nursing and Rehabilitation Center